Ice cream anyone? Close the door you're letting the cold air out! Start saving temperature, fuel and protect
your frozen products. Isn't it time to explore a safer, easier and more cost efficient way?
UD Nissan Diesel 2300LP model shown below requires the new High Position HTS adapter plate.
Image courtesy of Huff Ice Cream - Sidney, NY., Freightliner Corporation - Portland, Oregon and Ryder Truck - Miami, Florida 12-2008 and General Truck Body - Los Angeles, CA., Rush Truck
Centers - Fontana, CA, Ruben Meneses Ice Cream Company - Los Angeles, CA., Cold Car USA - Boerne, Texas, Cold Car - Occimiano, Italy and UD Nissan Diesel America - Irving, Texas 5-2009
HTS-10T shown with the new high position adapter plate for low bumpers, trucks equipped with low profile tires or small to med-size cab-over trucks.
The new Freightliner M2 and UD Nissan shown above are equipped with the Clean Idle Emissions diesel, recessed front axle for a sharper turning
radius and low profile design for reduced air flow and increased fuel mileage. The Freightliner M2 is also equipped with a Johnson Refrigerated Truck
Body with a Thermo King freezer unit. The UD Nissan Diesel 2300LP is equipped with the highly efficient cold plate freezer body from Cold Car USA.
Prevent warm hand trucks from acting as a heating element, prevent temperature loss, thermostat activation, saving reefer fuel in warmer climates!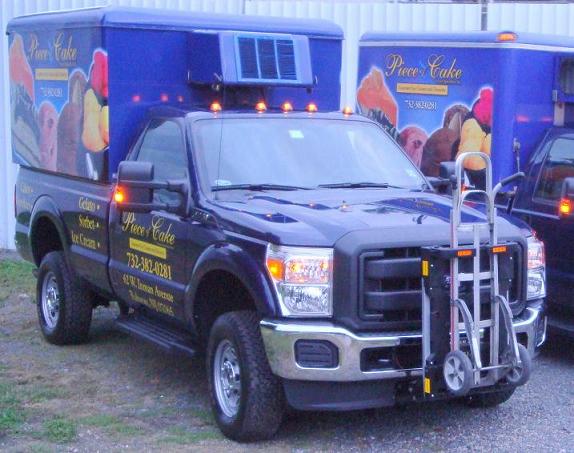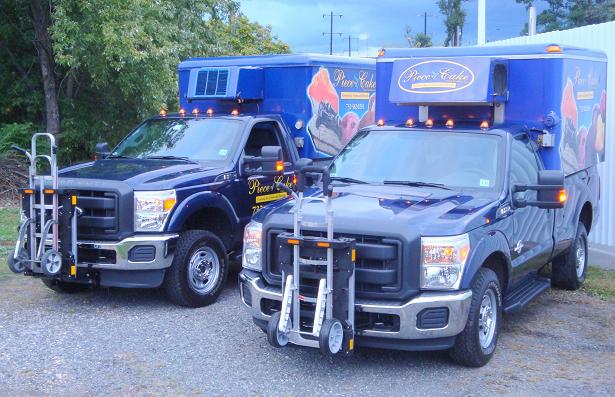 Images courtesy of Piece of Cake Frozen Specialties of Rahway, New Jersey. 9-2012 Ford F350 Super Duty pick-up trucks with HTS-10T Hand Truck Sentry System securing hand trucks.
Ford F350 equipped with new HTS-APS09 Boss snow plow frame mounting bracket. Piece of Cake Frozen Specialties of Rahway, NJ. has been an HTS Systems customer for over five years.
"I ordered your Hand Truck Sentry strictly out of necessity, there was no location to store a hand truck safely aboard my smaller pick up trucks.
"Once we used them we noticed we were saving time, effort and cargo space! Your products are GREAT, they're easier and safer."
"I would recommend your HTS products to anyone!" Jim Binaris - OWNER - customer for over 5 years. - September 2012
---
Many food service refrigerated fleet customers understand how difficult it can be to reduce the open door time, the amount of times a driver must enter or work inside.
The most crucial time event is the trip back to the vehicle, before departure. The last trip to the vehicle is the longest peroid of time because drivers check-in their delivery,
often help stock coolers, rotate inventory, sign bills and wait for payments. During this 10-15 minute time period, most delivery truck reefer units will recover operating
temperature and shut-off. The driver then approaches the freezer or refrigerated truck body, opens the rear or side door, the door seals often create a vacuum and cold
air drops outward. The driver loads the sun warmed or building heated hand truck back into the cargo area, closes the door, forcing warm air into the recovered freezer.
When the ambient is above 76° degrees, this prematurely activates the thermostats to recover cargo temperature for 5-8 minutes. Five minutes of reefer time X 20 stops
per day equals 100 minutes or over 1.5 hours of reefer run time per day. Most truck refrigeration systems use about one gallon of fuel per hour. This translates to a fuel
savings of $5-6 dollars per day, $25-30 dollars per week or $100 per month! The HTS also reduces physical effort, injuries, hand truck reload trime. route time and labor!
Our HTS Systems delivery vehicle equipment can quickly pay for itself in only 6-8 months and save food service delivery fleets thousands of dollars annually!!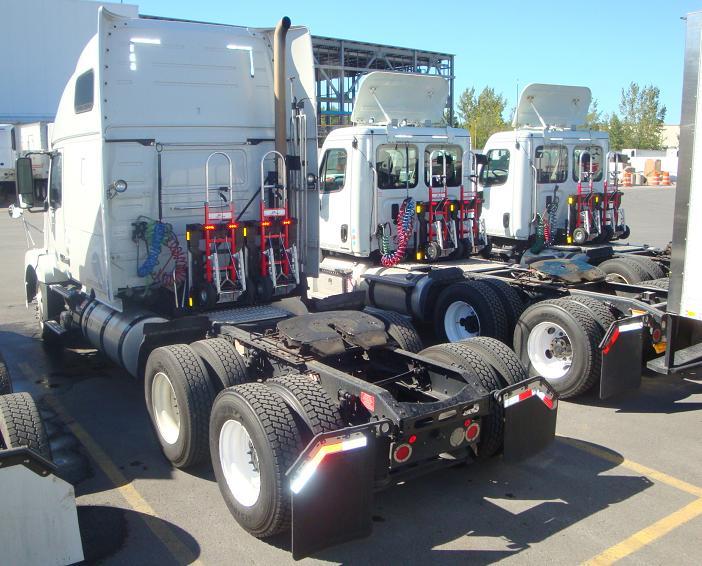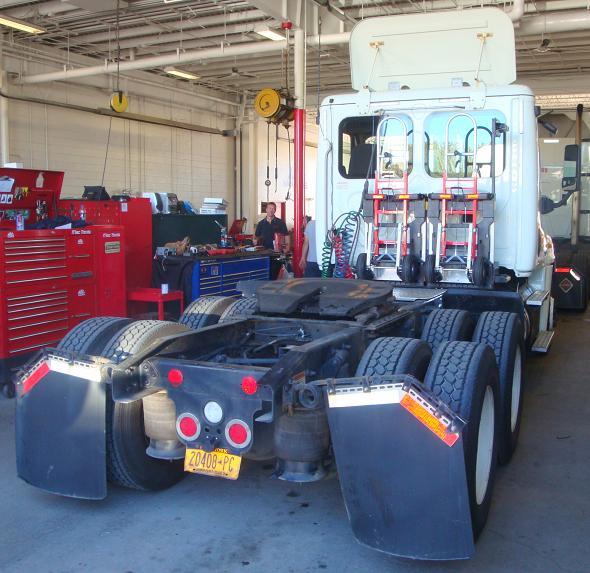 Photos courtesy of McLane Distribution Services and Ryder System of New York - HTS-30DTF-2 units. Freightliner Cascadia day cab tractor w/ 30DTF-2 Hand Truck Sentry System. 9-2013
These HTS-30DTF-2 include two HTS hand truck carrier racks, with optional cargo load lock bar carrier or optional Magliner ABS curb ramp cradle; all fits behind the cab!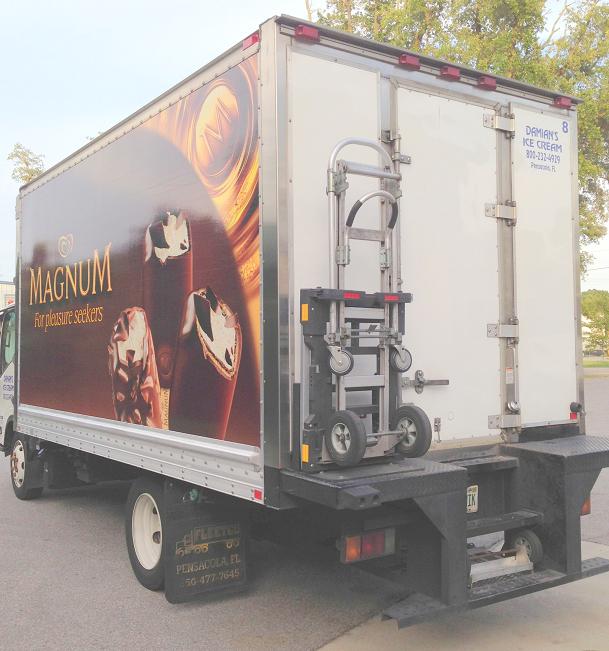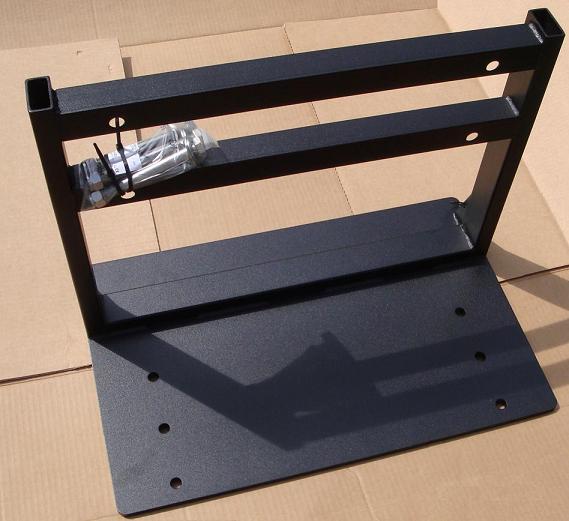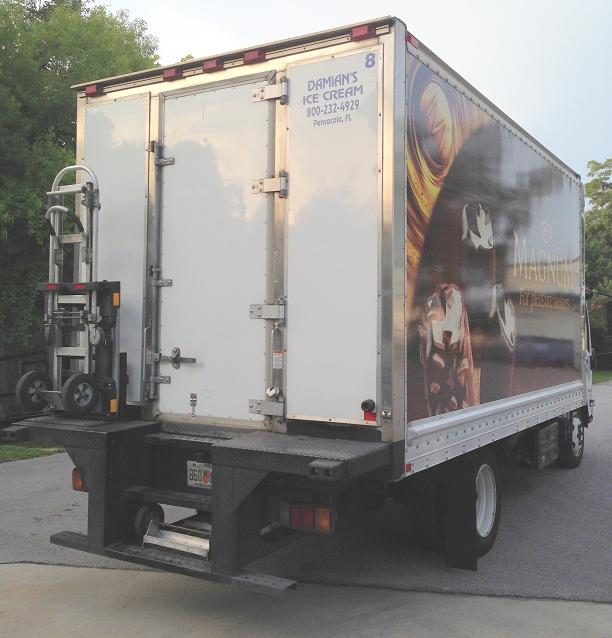 Images courtesy of Damian's Ice Cream and Morgan Corporation. HTS-VDM vertical deck mount bracket for rear landing platforms. Häagen-Dazs Magnum Ice Cream truck with HTS-30D unit.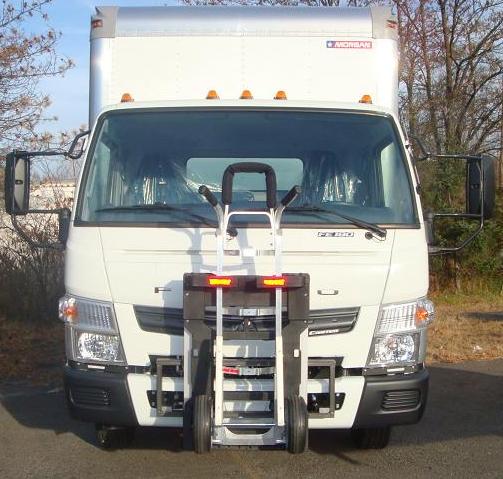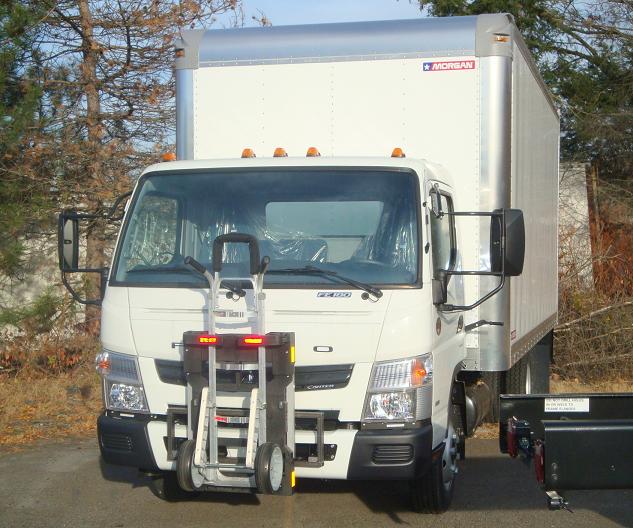 Images of Mitsubishi Fuso Canter F180 chassis with Morgan Truck Body and B&P Liberator. Mitsubishi Fuso F180 with HTS-10T Tilt Mount Hand Truck Sentry System locking B&P hand truck.
Image courtesy of Gertrude Hawk Chocolates, Inc. - Dunmore, PA., International Navistar and Longford's Own▪Made Ice Cream - Port Chester, NY. and Einstein's Mobile Upfitters - Brooklyn, NY.
"We couldn't be happier with your HTS hand truck racks!" Nolan West - Longford's Own-made ice cream - Port Chester, New York - March 2012
HTS-10T Tilt Mount-Ultra-Rack securing B&P Manufacturing's Liberator aluminum commercial hand truck. International Navistar 4300 DuraStar Series
chassis equipped with Kidron refrigerated truck body, equipped with Thermo King refrigeration unit. The new Carlsen Baltic locker freezer shown
above and below was professionally installed by Einstein's Mobile Upfitters. HTS-30D Direct Mount Ultra-Rack custom installation on Carlsen Baltic
body by Einstein's Mobile Upfitters NYC - Brooklyn, New York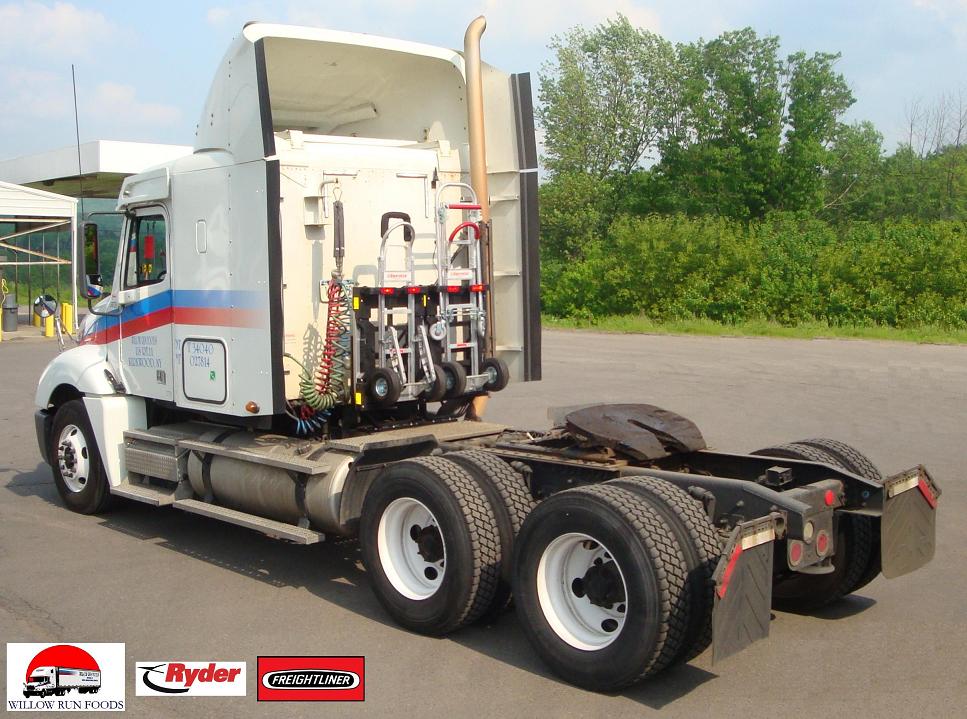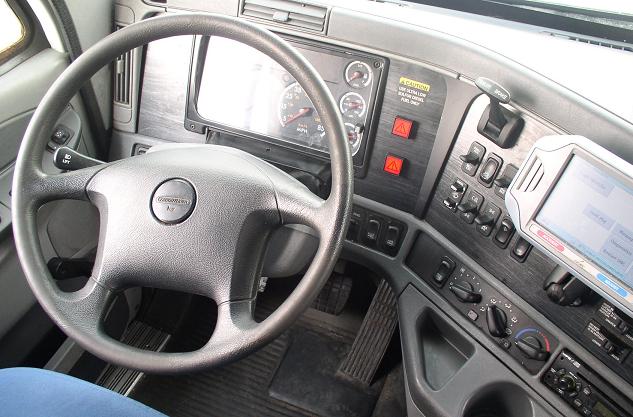 Images courtesy of Willow Run Foods Kirkwood, New York and Ryder Truck Syracuse, NY. Freightliner Columbia tractor cab interior - HTS LED release switches for driver and passenger side.
Willow Run Foods required a safe and reliable location to transport their hand trucks aboard their Ryder Freightliner equipment. Ryder Truck Leasing asked us if we could
find a solution. This HTS tractor chassis application allows one or two of our HTS-30D Direct Mount Ultra-Rack units to be installed on big rigs, without drilling or welding.
The HTS-30DTF (tractor frame) attaches to the tractor chassis frame C channel quickly and easily; it can also be removed and re-installed on new leased fleet equipment.
This tractor chassis design is for both day or sleeper cabs; allows full tolerance for any turning radius and user standing clearance between reefer trailers and tractor cab.
Excellent application for delivery companies backhauling sealed loads, full trailers with zero equipment space and/or semi tractors that must drop-hook or travel bobtail.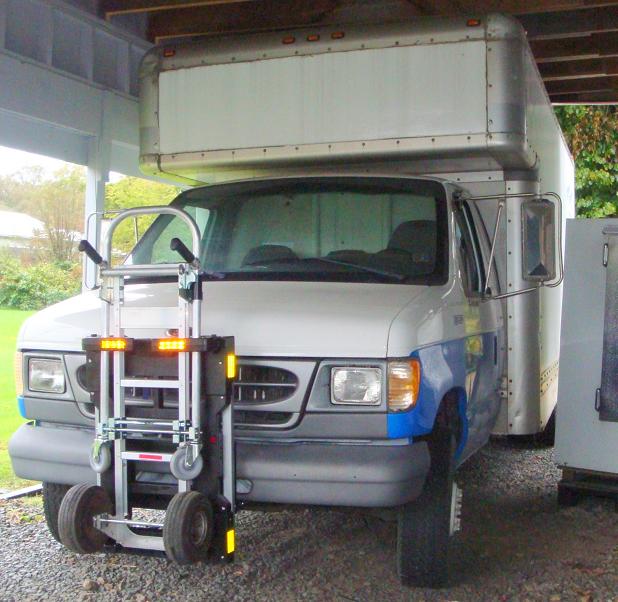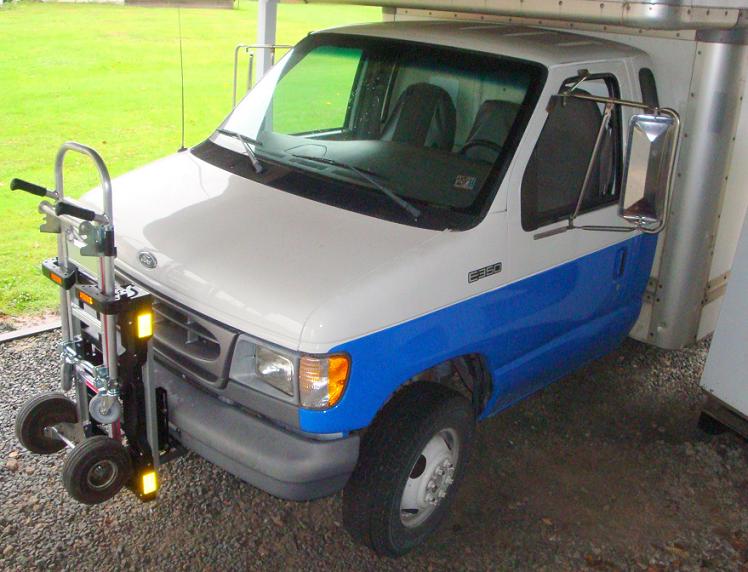 Images courtesy of Clifford Beverage Company - Ford E350 cargo van with HTS-10T. B&P Liberator Junior convertible (two position) platform hand truck locked safely aboard HTS Ultra-Rack.
"The HTS works very well on the front of my Ford E350 cargo delivery van! It makes our beverage and ice deliveries much easier.
Gary Marcho - Owner - Clifford beverage & ICE company - Clifford, Pennsylvania - September 2012
---
HOLD THE COLD! FUEL SAVINGS $$$ WHEN NOT TRANSPORTING A HAND TRUCK WITHIN REFRIGERATED TRUCK BODIES
It's nearly impossible to control the length of time or the number of times a refrigeration cargo door is opened during a delivery stop. Many refrigerated truck bodies have shut-off switches that
prevent the reefer unit from running while the cargo door remains open. This option can save energy and can lower fuel costs; however it does not prevent expensive temperature loss. Often the
final return trip back to the truck can be the most important when trying to retain cargo temperature! After the driver gets his delivery checked in, rotates and stocks their customer order, signs
bill and receives payment. This time can average 10-15 minutes; ample time for most thermostat controls to recover their safe operating temperature and properly shut down. The driver then
exits the building and must reload their hand truck aboard the vehicle. Opening the freezer door pulls the cold air outward and closing the door pushes the warmer air inward. This action results in
major internal temperature loss! Refrigeration companies informed us that if the ambient temperature is 75-80° degrees or above, this would cause the reefer system thermostat to recover for
approximately 5-8 minutes. Eliminating a 5-8 minute cycle time X 20 stops per day can save a minimum of 100 minutes of reefer time per day. Refrigeration manufacturers informed us that most
refrigerated systems use a gallon of diesel fuel per hour. Preventing a fuel loss of 1.5 gallons per day X $4.25 per gallon can generate a savings of $6 dollars per day, $30 dollars per week or
$120 per month, per delivery vehicle! Access and navigate the narrow aisle of freezers much safer, faster and easier when grabbing small orders. Save time, no moving or climbing over hand truck.
Refrigerated truck body manufacturers using thermo cameras have discovered that metal hand trucks heat up quickly in warm weather and act as a heating element, triggering thermostat controls!
---
The HTS Ultra-Rack eliminates the need to walk back to the rear or side of the box van, unlock, open, climb into, lower, climb down and secure the
doors, just to access the hand truck. A driver equipped with a Hand Truck Sentry unit can be exiting the pick-up location, returning back to the truck
with the customer's pick-up or cargo before a driver without an HTS has climbed down and relocked the cargo doors. Route drivers who make parcel
package or hazmat pick-ups now have a better location to safely store their hand trucks and they can access their hand truck and load it much safer
and faster, reducing climbing and lifting. Reducing physical climbing and lifting reduces worker injuries, Worker's Compensation and insurance costs.
Cross contamination is always a concern with food service or hazardous materials removal companies; the HTS can reduce cross contamination!
Contaminated truck body floors, damaged containers and hand truck tires can transfer harmful chemicals and bacteria, thereby contaminating the
next restaurant, school cafeteria, pick-up location or physician's office. Hand trucks travel across filthy sidewalks, through muddy rain puddles,
leaking dumpsters, dirty cooler floors, public rest rooms and oily loading dock areas. Cross contamination of bacteria, chemicals and dirt onto food
products and sanitary medical supplies can be reduced when transporting hand trucks out and away from cargo. The HTS Ultra-Rack Hand Truck
Sentry System reduces hand truck tires and load plate surface from transferring contaminates to customer locations and products. An increase in
worker safety and a proactive reduction in bacteria contamination helps protect the public health, our customers and reduces corporate risk!
Images courtesy of William Taylor of Einstein's Mobile Upfitters - Brooklyn, NY. and Nolan and Patricia West of Longsford's Own▪Made Ice Cream - Port Chester, New York
Carlsen Baltic is a growing Danish owned company established in Lithuania 2005. Carlsen Baltic has specialized in the development and production of
lightweight bodies for deep-freeze on a 3 and 5 ton chassis mainly designed for home deliveries. Carlsen Baltic supplies the lightest bodies available.
Image courtesy of Piece of Cake Frozen Specialties, Inc. - Gourmet Cakes, Pies and Ice Creams. Image courtesy of Sherwood Freightliner and Sterling Trucks - Redford Township, MI. 11-2007
2007 Ford F350 Diesel - HTS-10T Ultra-Rack professionally installed by Piece of Cake Frozen Specialties. Hand Truck Sentry System (HTS) securely
locking Magliner commercial aluminum delivery hand truck. HTS-10T Tilt Mount Ultra-Rack securing B&P Manufacturing Liberator commercial aluminum
hand truck. 2008 Sterling Acterra Class 7 equipped with an HTS-10T Tilt Mount Ultra-Rack and Morgan Truck Body box van.
"The HTS can help us eliminate those flimsy rubber straps, loose bungee cords and prevent us from leaving our hand trucks at customer stops"
James Biniaris - OWNER- PIECE OF CAKE - Rahway, NEW JERSEY - JULY 2007
Images courtesy of CF Foods, LLC. Celebration Foods - Carvel Ice Cream a Focus Brand Corporation, Rocky Hill CT. and Ryder Corporation, Miami, FL. and Stadium International Truck
Syracuse, New York and Freschetta Pizza - Schwan's Consumer Brands - Marshall, Minnesota
Freightliner M2 Business Class 2007 - Carvel Ice Cream - Celebration Foods. HTS-10T installed by Ryder. International Navistar 4300 Series chassis
equipped with HTS-10T, Thermo King and Kidron truck body. HTS Ultra-Rack locking B&P Manufacturing's Liberator aluminum commercial delivery
hand truck. International Navistar 4300 DuraStar Series chassis equipped with Kidron refrigerated body, equipped with Thermo King refrigeration.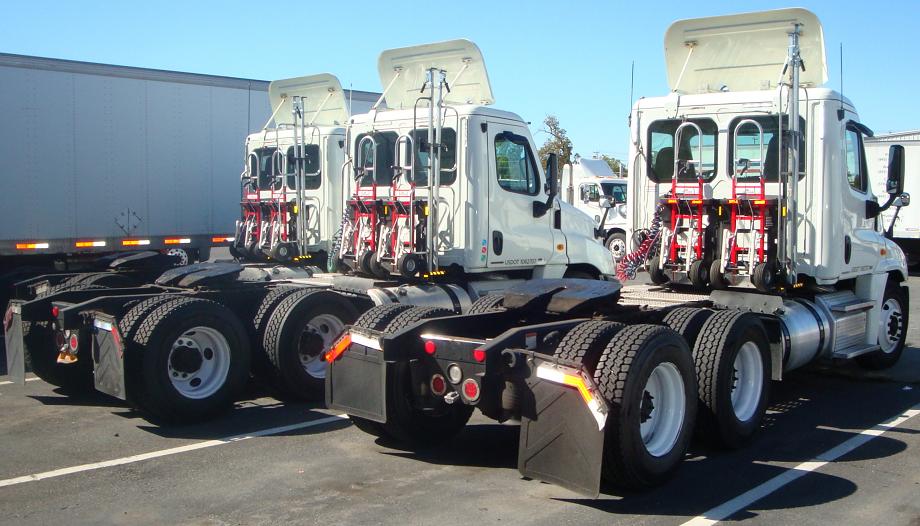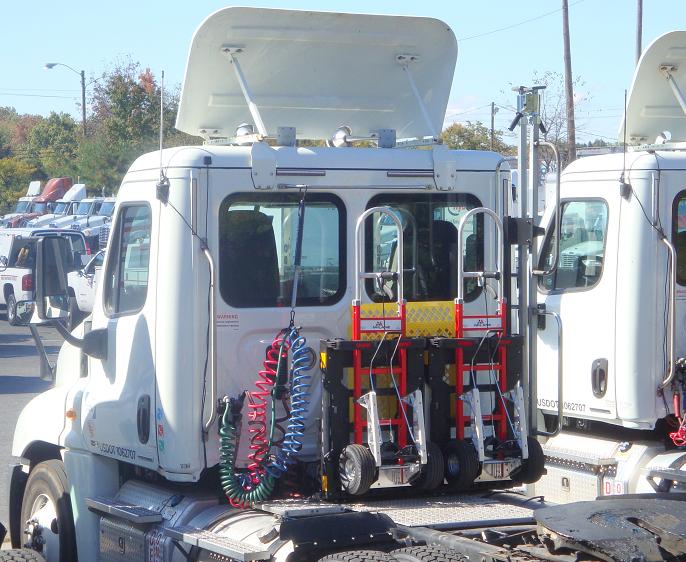 Images courtesy of Ryder Truck and McLane Distribution Services. HTS-30DTF-2 units with load lock bar carrier. B&P Liberator hand trucks, Magliner curb ramp and load lock bars secured.
---
The HTS Ultra-Rack Hand Truck Sentry System quickly pays for itself while it increases the efficiency, the safety and the profitability of your delivery system by:
● Reducing the time of each and every delivery stop by increasing the ease of access, storage and retrieval of the hand truck, consistently reducing labor costs.
● Reducing the liability of the company resulting from hand trucks falling from delivery vehicles during transportation, reducing insurance costs and protecting brand image.
● Reducing the likelihood of injuries to the route driver due to insecure or unsafe handling and retrieval actions, thereby preventing workmen's compensation claims.
● Reducing the time lost by having to return to the previous delivery stop to retrieve the lost or forgotten hand truck, thereby lowering fuel expenses and labor costs.
● Reducing the damage to packages and other fragile merchandise due to loose hand trucks bouncing around within the cargo area, thereby lowering freight claims.
● Reducing bacterial or hazmat cross-contamination contact of product cargo, customer delivery locations thereby preventing illness, liability and insurance costs.
● Reducing costly temperature loss and fuel expenses by reducing open door time and total number of entries within refrigerated or cold plate food service truck bodies.
● Reducing the chance of hand truck theft or damage and merchandise theft from unattended or unlocked delivery vehicles, while providing a superior theft deterrent.
● Reducing the loss of valuable cargo space when transporting a hand truck within the vehicle interior, thereby increasing the vehicle's payload and storage efficiency.
Images courtesy of Carvel Ice Cream and Penske Central - Tempe AZ. 5-10 Image courtesy of Longford's Ice Cream and William Taylor of Einstein's Mobile Upfitters. 03-2012
"The HTS Ultra-Rack has really helped our RSR's on the Carvel units we have installed the Hand Truck Sentry System, it has made their jobs safer and
the equipment is lasting longer due to less wear and tear." "We are very happy with the system as well as the excellent service and follow up."
Jim GUST - National ASSET MANAGER - Celebration Foods - Carvel Ice Cream - Chicago, ILLINOIS - JULY 2009 - CUSTOMER OVER 4 YEARS
"We couldn't be happier with your HTS hand truck racks!" Nolan West - Longford's Own-made ice cream - Port Chester, New York - March 2012
---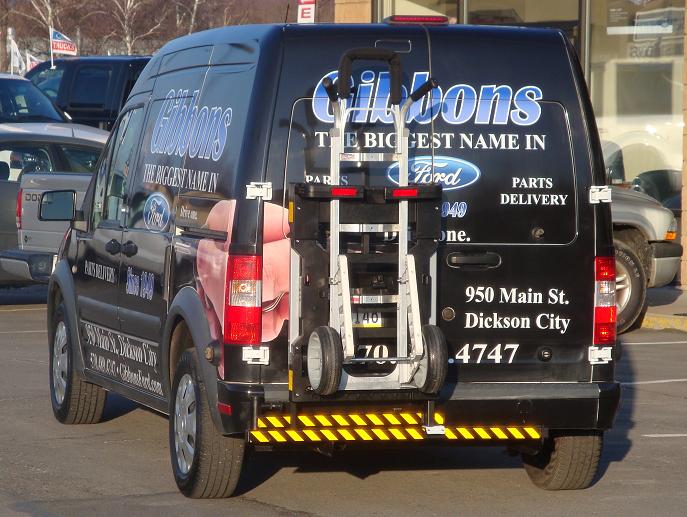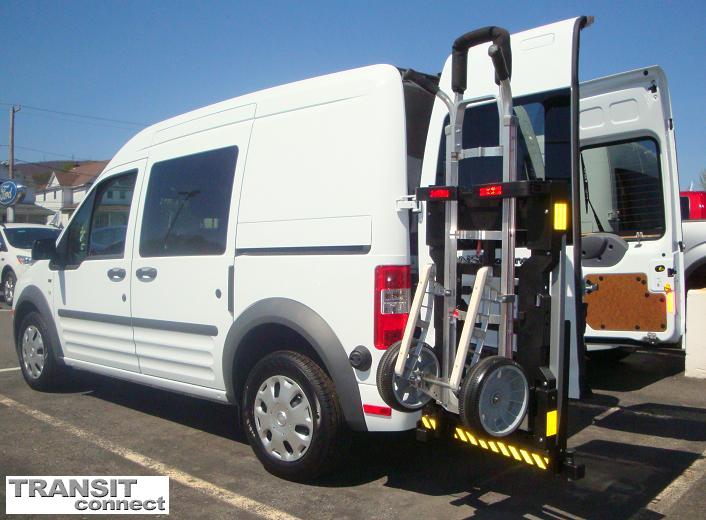 Images courtesy of Gibbons Ford Dickson City, PA. and Ford Motor Company - Ford Transit van. HTS-20SFT Ultra-Rack unit swings open beyond 90° and to 180° to allow full open door access.
No matter how or where you store a hand truck inside a cargo van, it takes up valuable cargo space, damages product, requires physical effort and can cause work related injuries. Not Anymore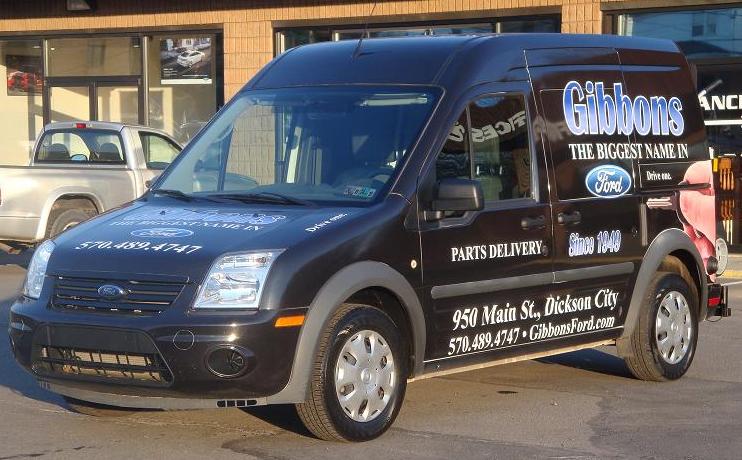 HTS-20SFT maximizes cargo space in cargo vans, reduces product damage and decreases delivery time.
HTS-20SFT Ultra-Rack is compatible with most commercial hand trucks models.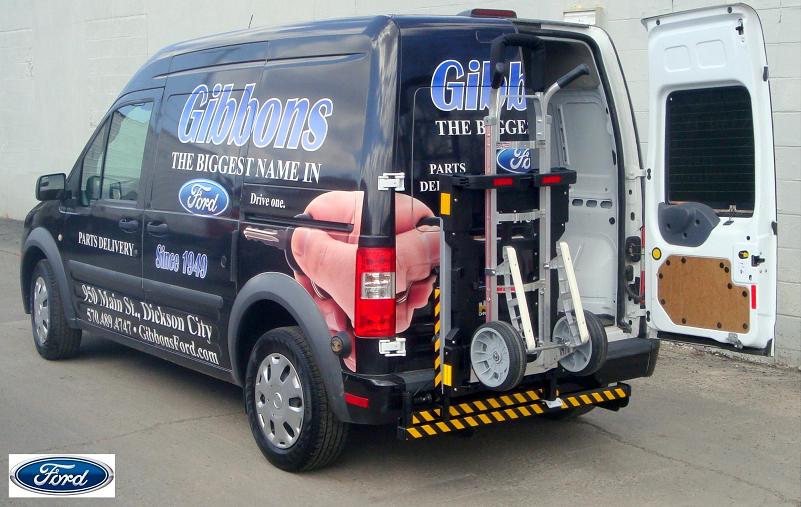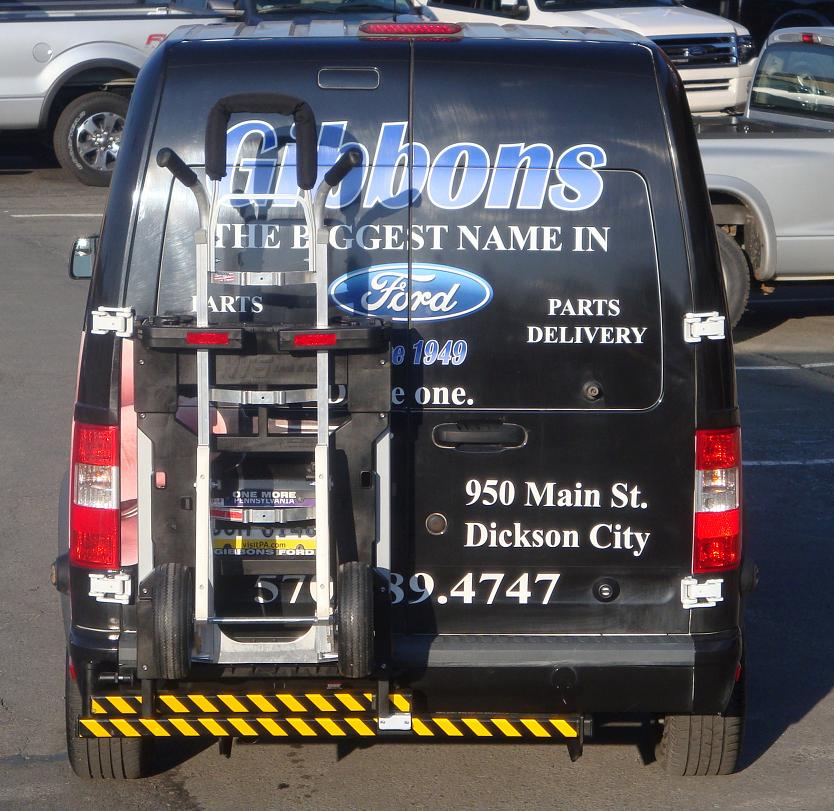 Ford Transit Connect commercial min cargo van equipped with HTS Systems' HTS-20SFT Ultra-Rack holding B&P hand truck. B&P Liberator hand truck locked safe and secure aboard Transit.

The HTS-20SFT unit offers numerous advantages for food service companies looking to reduce operating costs such as; route delivery time, fuel expenses, worker

injuries, product damage and freight claims. Food service companies using refrigerated vans in warmer southern climates and during the hot summer months will receive

a super payback benefit savings! Reducing cargo temperature loss means less fuel usage, less wear and tear and less maintenance. Fleets can save $25-$35 dollars of

fuel per week, per van!

The HTS-20SFT Ultra-Rack application is a smart, safe and productive method and also looks great on the van! Route drivers can now stop

shuffling and cross-handling their hand trucks above and around their cargo to access the vehicle or products. No more extracting the hand trucks to the ground to

access a single box, no wasted route time, reduce labor costs, less physical effort, also prevent work related injuries. Our Hand Truck Sentry System models can pay

for themselves in 6-8 months and save fleets thousands!

Route delivery time, cargo space, labor costs, freight claims, vehicle maintenance and equipment loss is Money!
---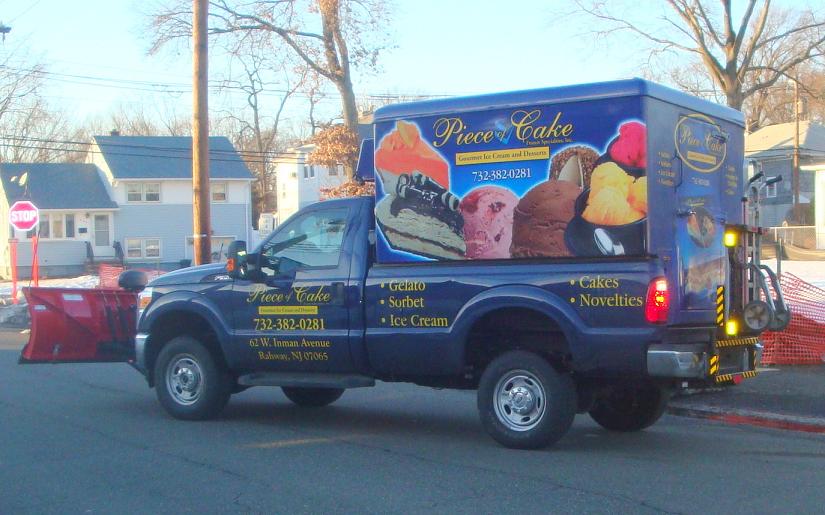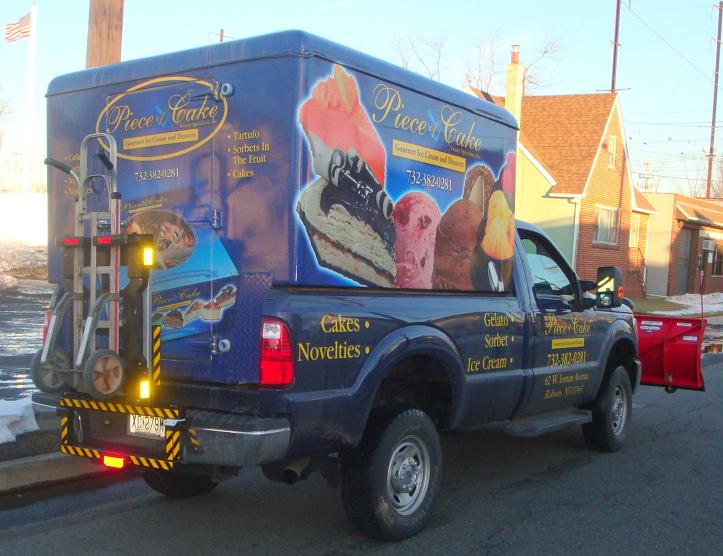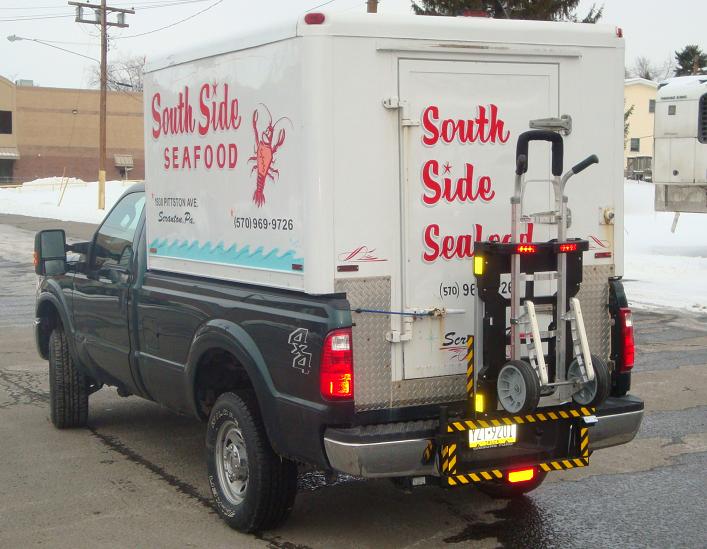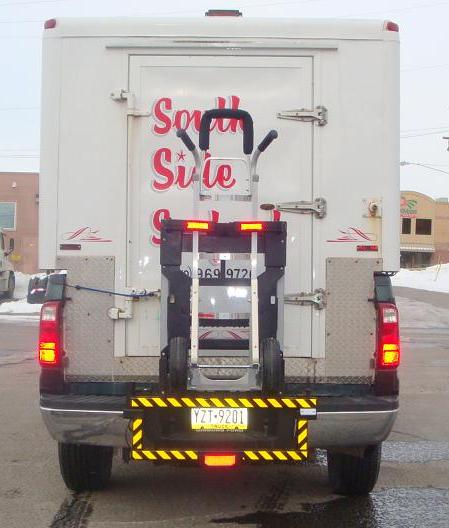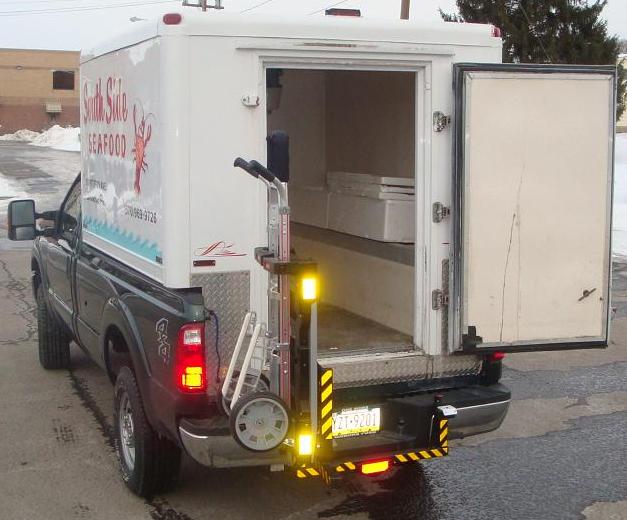 Images courtesy of South Side Seafood & Piece of Cake Frozen Specialties. HTS-20SF350 Hitch Swing Mount Ultra-Rack. B&P Liberator commercial hand truck locked safely aboard Ford F350.
HTS-20SF350 tow hitch receiver swing mount is designed for the rear of commercial pickup trucks using refrigerated truck bodies. Designed for the rear of refrigerated
food service delivery vehicles, this new HTS application saves cargo temperature, route time, valuable cargo space, prevents worker injuries, product damage and
bacterial cross-contamination. The new HTS-20SF350 unit reduces reefer recovery run time, physical effort, thereby saving thousands in fuel and labor costs annually!
---
Please Note: Federal and State DOT safety and visibility regulations prohibit blocking the driver's view. Most hand trucks attached to front mounted HTS-10T Ultra-Rack units will rise above the
vehicle grill and hood line. The vehicle driver must be able to see safely through and around the hand truck frame, so as not to obstruct road visibility. The HTS Ultra-Rack is compatible with the
industries most popular commercial aluminum hand trucks and many tubular steel hand truck designs. Hand trucks equipped with deck plates can not be transported on the front mount HTS-10T
Ultra-Rack units. Please call our customer service center to learn more about deck platforms and hand truck accessories that may conflict with the HTS Ultra-Rack or DOT safety regulations.
---